The Handshake Holdings proposed conservation preserve will result in the creation of 321 acres of new conservation lands with 236 acres being new park lands.
These park lands will be zoned PG-2 (Parks and Recreation Zone) and protect the Lizard Creek corridor. This protection exceeds all regional and provincial requirements for water course setbacks and will ensure the ongoing protection of Lizard Creek through the Galloway Lands. With 70% of the land being preserved, sensitive areas will be protected and wildlife will have freedom to move.
The Parks and Recreation zoned lands will abut Mt. Fernie Provincial Park creating a network of park lands that protect habitat while enhancing opportunities for recreation.
Approval of this conservation preserve increases protected areas within the Elk Valley.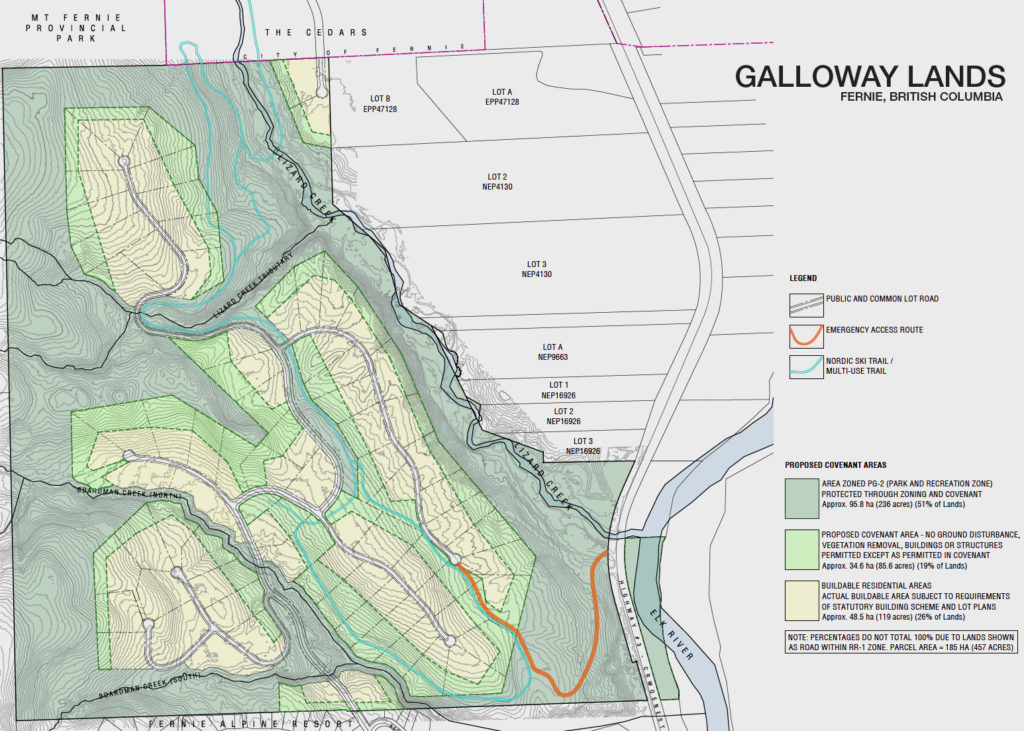 The best plan for the land!
The Handshake conservation preserve is a way forward that blends growth and development in the region with perpetual public access, fire smart planning, financial gain for the Regional District, and thorough environmental stewardship.
Leaving the Galloway Lands with the current zoning means that the lands are subject to alternatives that might not support or guarantee future public access or conservation design.
The Galloway Lands presently are managed forest for harvesting timber. The land has been clear cut twice, the most recent harvest in the late 80's. The conservation development proposal creates an alternative to future logging on the lands.
The current zoning is not aligned with the Official Community Plan and will not provide future certainty for public use, wildlife or the environment.
Current zoning permits several large private parcels where each owner would individually determine its future.
Read the Galloway Lands Professional Reports here.